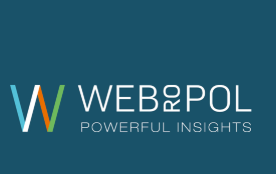 #BossDay 2018
On Tuesday 16th October 2018, employees from companies throughout the world celebrate National Boss Day. Boss Day is an opportunity for employees to thank their boss for being kind and fair to them throughout the year.
To celebrate #BossDay 2018, we are sharing some information about the lovely boss of Webropol UK, Amy Bassi!
Amy, Managing Director of Webropol UK, joined the team in 2007. She has been part of Webropol since the launch of the UK office, helping to grow it into the success it is today! As an ITIL and PRINCE2 certified Project Management Practitioner, Amy is responsible for a range of tasks including managing projects in the UK and internationally. Amy is a member of the Royal Statistical Society and a big Tennis and F1 fan!
To understand what it takes to be a managing director, we asked Amy some questions……
What do you think makes a good boss?
Amy: A good boss needs to be positive, to keep up the team's motivation and to help learn and improve from any negative aspects. They need to be selfless, and interested in the progression of their staff, but still know the difference between when to delegate and when to be more involved.
What career path did you take to get to where you are today, as Managing Director of Webropol UK?
Amy: In my career I have always had to deal with large teams in a highly pressured environment, where you must be accountable for the actions of your team members, which has prepared me for the role of Managing Director. Some of the previous roles I have had include being regional manager for a charitable organisation, and the office manager of 17 branches of a recruitment company. I joined Webropol in 2007.
What is the best and worst thing about your job?
Amy: The best things are communicating with various levels of customers, and getting the opportunity to build strong working relationships with our customers and our employees. My job is very hands on which I find satisfying. The worst part is having to visit Finland in the winter!
If you could meet any historical figure, who would you choose, and why?
Amy: I would choose to meet Emmeline Pankhurst. I believe we would not see women in leadership roles if it hadn't been for her actions in the first place.
What is the most interesting thing about you that is not commonly known?
Amy: I ran away from home when I was 5, and went to the police station to ask for directions. I was upset because my parents wouldn't take me into town so I decided I would make my own way there!
If you were stranded on a desert island, what 3 things would you bring with you and why?
Amy: My husband for company, but I would need a mute button at times! I would bring an iPhone with endless battery and a hairbrush. Firstly so I can use it as a microphone to sing into and secondly, to always have good hair!
Would you rather fight one horse-sized duck, or 100 duck-sized horses, and why?
Amy: 100 duck-sized horses. All I would need is a tennis racket!
What is the best show currently on TV and why?
Amy: I have just finished watching The Bodyguard, I was hooked from episode 1. I also like West World, the concept fascinates me.
The rest of the Webropol team would like to take the opportunity to thank Amy for being such a great boss, not just on #BossDay but all throughout the year!