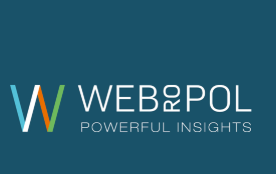 #EmployeeAppreciationDay2019
This year, Employee Appreciation Day falls on Friday 1st March, giving organisations everywhere the opportunity to show their employees that they are valued. There is extensive evidence to indicate that recognition and appreciation are key motivational factors for employees, and providing them with an engaging working environment can boost productivity, motivation and satisfaction.
At Webropol, we recognise the importance of the day, but believe that employee appreciation should take place all year round! We are fortunate to have a diverse team, so we have each shared our insights into employee appreciation below.
Amy, Managing Director:
Employee Appreciation Day is a fabulous way to show staff how much you appreciate their efforts and how grateful you are for their contribution to the organisation's success. It is necessary in the modern workplace to ensure that my team maintain a cohesive environment, are happy and engaged.
The key to improving employee satisfaction, engagement and happiness whilst boosting morale and productivity is to show your employees how valuable they are and how much you appreciate them.
Here are some of the things I do with my team, so they know I appreciate them:
Treat them to lunch or nights out – seems obvious but don't just leave it for the annual Christmas party, make them realise they are important all year round.
Update the break out room – we have a Nintendo Wii, outdated I know but still the best. A good game of bowling or tennis is great for those who are competitive and fun for everyone else. We have a competition running all year round and the winner gets a Gold Medal.
Have a cause for celebration. This year on Pancake Day, the team are coming round to mine for a Pancake Day extravaganza … yummy ?
Take a survey, find out if you have a happy and engaged workplace. This could be anything from employee engagement to stress risk assessment. Give staff a voice to express themselves, take actions so they know you are listening.
Simply say thank you. Simple and effective.
I haven't told them yet … but I'm thinking about introducing Game Night, still working on the logistics of that one ?
Matt, Technical Project Manager:
Appreciation is an easy way to provide that little bit of motivation that all employees sometimes need. It can also be something that will help to boost confidence and help individuals to reach their potential. For me your employer showing this appreciation, no matter how big or small the gesture, just shows that the work you are doing is not being taken for granted. Something so small, like a quick email displaying their gratitude or an office outing, can go a long way to ensuring that the workforce feels appreciated.
Heather, Project Manager:
It's really easy to get caught up in ongoing goals, focusing on the next task and forgetting to celebrate the small wins. Therefore, I think its important to regularly take the time to recognise what your team have achieved. I think sharing success stories with the rest of the organisation and giving personal recognition is a great way to show your employees that you appreciate them. They are getting praise and good feedback, and the rest of the team also gain examples of good practice to learn from. Sharing success stories does not cost anything and is simple to do, so is easy to implement on a regular basis! I also feel valued when my team members ask for my opinions or advice on something. It makes me feel that my individual contributions are important and they care about what I have to say!
Nathan, IT Apprentice:
Despite only recently joining the team, I already feel part of the team and have done since day 1. As an apprentice I am ultimately here to learn. My team members have all been involved in my learning, and have always been honest with my work and progress, offering both praise and constructive criticism. Employee Appreciation Day feels quite important to me now as I genuinely feel valued by the team. This has come down to:
Being made very welcome by the whole team
Having everyone involved in my learning and training
How everyone has helped me already in developing my skills
Going out and planning team outings to movies, meals and more
Stress levels being important to the team (we even have a wii to de-stress if we need it)
Little things, such as my boss saying 'thank you', or buying me a coffee.
If you would like more information about how our survey tools can be used to support and empower your workforce, contact us today.
Telephone: +44 (0) 1788 833881
Email: info@webropol.co.uk
Try our Standard Survey and Reporting tools for free!