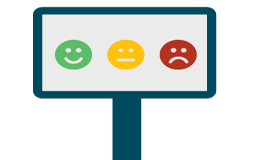 Get Instant Feedback With Webropol
On-site Measurement
On-site customer satisfaction measurement at events, stores, restaurants, trade fairs and waiting rooms
The Webropol Instant Feedback solution unlocks entirely new opportunities for business insight: it measures customer satisfaction and collects direct feedback from individuals on site. Webropol launched the new feedback device in autumn 2013 and it is now widely adopted among Webropol customers. Various organisations use Instant Feedback to measure customer satisfaction, employee satisfaction, and collect feedback from students and patients. In several cases companies lack the contact information needed to send out surveys later. Customer satisfaction can be measured at events, stores, restaurants, trade fairs and waiting rooms.
Common Situations
Here are common situations for measuring satisfaction with Webropol Instant Feedback:
Universities and other event and training organisers measure event and training satisfaction
Hospitals and health care service providers use Instant feedback for asking patients questions about customer satisfaction and service quality in waiting rooms
Restaurants, hotels and stores measure customer satisfaction and reach hundreds of consumers on a daily basis
Employee satisfaction is measured in many organisations that are undergoing change or who otherwise want to measure job satisfaction on a daily basis
You can modify the questions and response alternatives shown on the screen of the device as often as you like. Here are a few examples of what to ask when collecting feedback in events and other situations:
Would you recommend our service?
Are you going to continue using our service in the future?
Was our service quick / friendly / professional enough?
Did the final result of our service meet your expectations?
Was our event useful / interesting / well organised?
The Webropol Instant Feedback solution includes one (or multiple) Webropol Instant Feedback touch screen device(s) including stand(s) and the Webropol Instant Feedback application. Contact us to find out more about Webropol Instant Feedback!