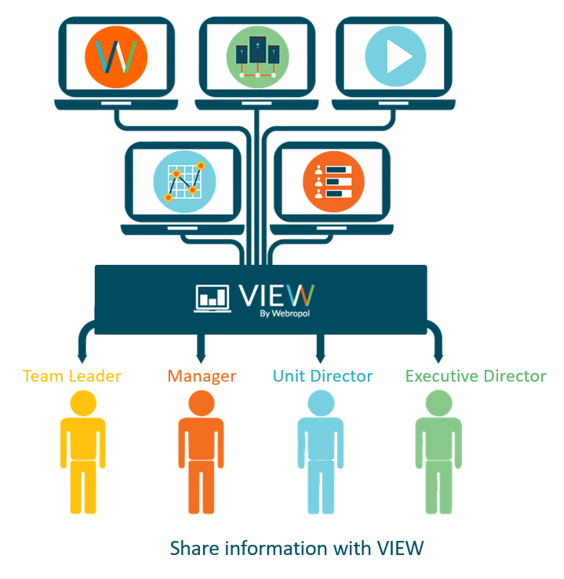 Introducing VIEW
With the start of the new academic year, September feels like a fresh start for many. An opportunity to review performance so far, set new targets and focus on upcoming challenges. September also brings the launch of our innovative new module. VIEW by Webropol is a comprehensive data processing centre which manages information efficiently – perfect for organisations looking to monitor their performance and share improvements with their teams.
The first step for any business looking to improve is the ability to visualise KPI's and many managers agree that, the best way to achieve improvements across the entire organisation is to make feedback information easily available to their employees. Transparency of results across the whole organisation encourage staff to make continuous improvements to service delivery at all levels. VIEW makes this process simple for users. With VIEW, data can be processed with real time results, and data organised using dashboards and elements which bring KPI's to life. Information and reports can be shared securely with other VIEW users, or externally using links, so that real-time data is always accessible to those that need it.
Many organisations enthusiastically collect feedback and gather information, yet miss an opportunity to effectively analyse the results, as they lack the knowledge or software to do so. VIEW provides a platform for staff to engage with the data, allowing them to identify areas of success and improvement, and work together to meet targets.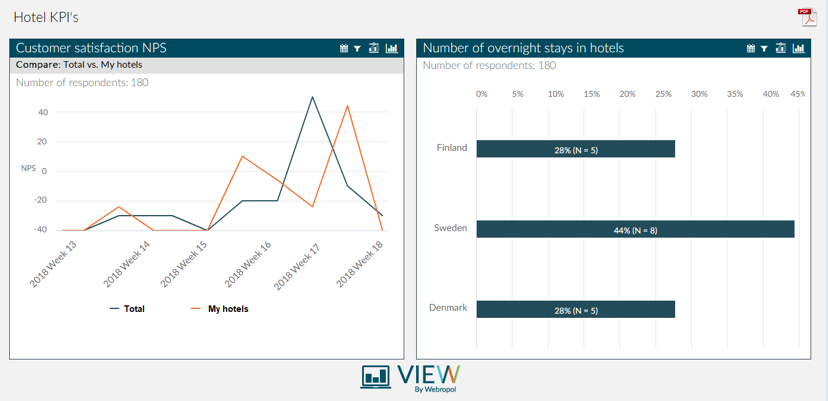 A hotel manager wants to see how customer satisfaction compares against other hotels in the chain.The manager is able to drill down by location to measure their performance against other hotels.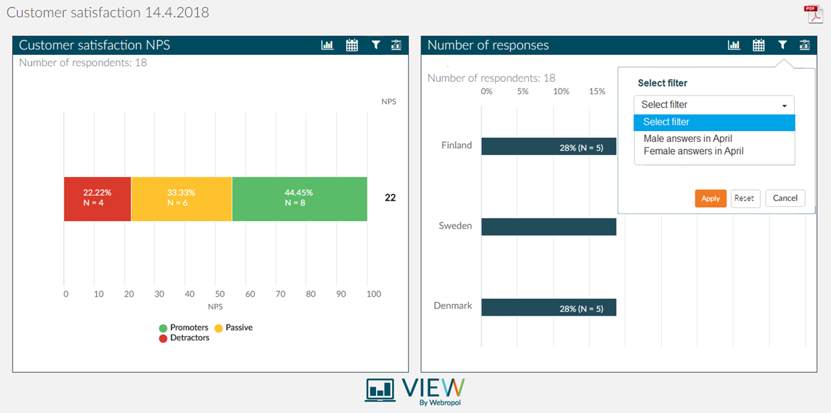 The use of different types of filters in dashboard elements allows users to see behind the initial results and investigate further.
Key Features
Real time results: accurate and up to date information is readily available at all times, ideal for organisations who need to act quickly
Dashboards and elements: organise your information clearly and use visual indicators to increase engagement
Share information: a secure platform to circulate sensitive information, so that you are kept informed at all times
It is so important to get up to date information and react to problems quickly, so implementation of VIEW is simple and convenient. VIEW could be ready to use in as little as 3 days, even for continuous improvement cycles spanning many months. Throughout the process, dedicated international experts are available to provide guidance, and full training and support will be given.
To find out more about how VIEW can help your organisation to continually improve, contact us today!
Telephone: +44 (0) 1788 833881
Email: info@webropol.co.uk