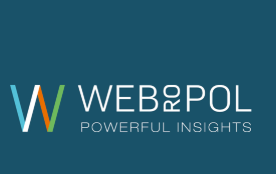 Online Survey Tools: Free vs Freemium vs Paid Software
When survey tools were introduced in the late 1990s, the platforms had limited functionality. They were only accessible via a computer and were often unengaging and laborious to use. As technology has progressed over the years, so has the popularity of online survey tools. The survey tools of today have a host of intuitive features tailored to the wide variety of purposes. Digital agencies may use survey tools for user testing purposes, e-commerce stores may use online survey tools to collect feedback from their customers, and market research organisations may want to use online survey tools to collect a vast amount of data.
The accessibility of survey tools makes them even more appealing, as they can be linked and shared through social media platforms and can be accessed via a range of devices such as tablets and mobile phones. Online survey tools have adapted to suit the changing nature of consumers and their requirements in the digital age.
With such a wide range of survey tools and licence types available, it's difficult to know what to choose.
Comparing the different offerings
Free
A free version of a survey software product aims to get users to try out the software. They will always have a place in the market. Free versions have limitations, such as a limit to the number of questions or question types that can be used. Occasionally the number of respondents that the survey can be distributed will be capped.
At Webropol, we provide a Try It Now opportunity. Any user can trial our software for 14 days, giving them access to the full range of features offered by our standard survey licence. We are confident that you will like our survey tools and want to continue with an annual licence, but if you do not, we will terminate the licence at the end of the 14 days with no charges or issues.
Freemium
With freemium survey tools, the basic functionality is free for the user and advanced features are restricted unless they are paid for. This flexibility is often useful for users as they can trial the software without any risks and only pay for the features that they need to use. The disadvantage with freemium tools is that features are limited and upgrading to advanced features can be more expensive than a paid-for licence.
Paid
A paid-for survey tool gives you access to the full product offering. More often than not the paid for tools work out cheaper in the long term. Whilst some buyers may see the cost as a disadvantage, survey providers are priced competitively so that users can be certain they are getting a good deal, often including discounts or increased functionality.
At Webropol, we reward our customers for their loyalty, as we value their feedback on our software. With the support of our users, we provide leading technology and the most intuitive software on the market.
Webropols software is known for being cost-effective and functional. Check out the comparison of features between our standard licence compared with other leading survey providers: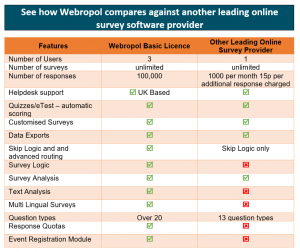 A comparison of leading online survey platform providers
Try our Standard Survey and Reporting tools for free!
Contact us today to find out more!
Telephone: +44 (0) 1788 833881
Email: info@webropol.co.uk