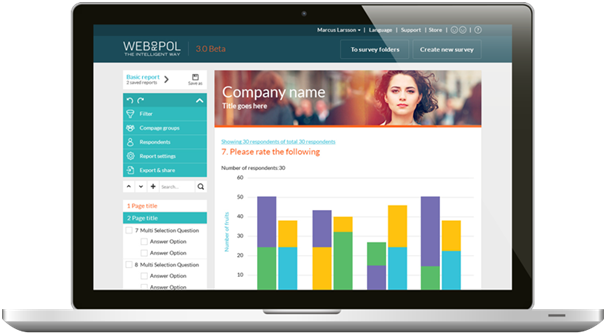 Survey Reporting and Why it should be Simple
Surveys are becoming more and more popular whether you are a multi-national business looking to better understand your employees or a student looking to gather evidence and opinions for your course. Surveys can help gain qualitative data from a large audience, but how do you process this data and how can you report on the survey's data without making things complicated? That's what we're going to answer in this article.
What a Survey Report Should Include
When you create a survey you include the necessary information and questions so you only gather the answers to questions you require. These questions need to be portrayed in a report that's easy to understand from a third-party view because often than not that's who your audience is.
When it comes to gathering the data from the reports many survey programs allow you to export the data in a number of formats. Ideally, the platform you choose should provide live feedback and reporting so that you can quickly gather, export and present data that any audience can make sense of. Platforms like this ensure:
You have a comprehensive service for your money
You're prepared for any last-minute presentations.
The Benefits of Live Survey Reporting
It's happened again. Your boss in their daily round the office route reminds you of a meeting in 10 minutes. The beauty of live survey feedback is that in 10 minutes you can find, export and populate a presentation-ready with all of the required data. Even if the campaigns haven't finished running you should be able to know how the survey is performing and even a possible prediction based on trends and data collective. Without simplistic and smooth survey reporting options you could spend hours sifting through data manually and even then still not make sense of the data.
What about now that you're in the meeting and you're getting questions about different areas of the report and splitting the results into different demographics. With the right survey reporting platform, you can easily segment data. Webropol allows you to create clusters of customers providing key data for individual groups you choose. During presentations, visual data catches the eye of the audience ensuring they are intrigued by the data and retain the information. It's the perfect tool for business intelligence. See which things influence your key performance indicators most strongly, and use simulation/prediction tools to understand the consequences of your action plans.
Where Can You Find Simplistic Survey Reporting
With Webropol's Survey Reporting. You don't have to look far for real-time, visually impressive survey reporting. Webropol offers extensive survey creation and reporting options. Our platform is ideally suited to large-scale data collection and mass reporting.
For more information, please contact us:
Telephone: +44 (0) 1788 833881
Email: info@webropol.co.uk